You wouldn't drive in the dark without turning your headlights on, so why would you run your bank or credit union without a clear view of where you stand up against the competition? Understanding this is critical to the success of every type of business—but it's especially true in the FI space. Unless you know what makes your bank or credit union unique, you can never truly maximize your competitive edge.
Read on for your three guiding principles when looking to build your own competitive analysis.
Item One: Start with a SWOT Analysis
Know thyself. It's wisdom for both individuals and organizations—and it's the principle that drives the first step in building your competitive analysis.
We begin the process with a SWOT analysis, a strategic document that identifies your organization's strengths, weaknesses, opportunities, and external threats. This will be the foundation of your efforts, helping you build upon the things you're doing well and identify areas for improvement. It'll help you articulate your goals and manage your progress.
Here are some things to consider, which may help you begin to identifying items for each section of your analysis:
Your organization's financial resources
Personnel and staffing levels/needs
Processes
Market trends
Political/legal trends
Insights from throughout your organization
Service offerings
"Honesty and clear-headedness are the most important factors in building out your SWOT analysis," said Katie Levitt, director of insights at Epicosity. "It's not always easy to admit where we have work to do, and it's tempting to tell ourselves that we're strong where we aren't, but it's vital to get an accurate picture because everything else you do is an outgrowth of this document."
Once you've completed the process, you can begin discussing how you want to maximize your strengths and opportunities while mitigating weaknesses and threats. This discussion will drive your goals and action items.
Item 2: Evaluate your online/digital presence
It's barely an exaggeration: If you're not visible and active in the digital space, you don't really exist in today's business landscape. What's more, how you stack up digitally against your competitors is critical. Before you optimize your digital footprint to bring more customers through your doors (digitally and otherwise), you need to understand how you're performing today.
To accomplish this, you'll complete a site audit to ensure your user experience is optimized (load times are good, accessing your information is easy, customer service is at the forefront, etc).
It's also important that your audiences can find you online. To make sure that they can, you'll need to carefully consider the following three items.
Search Engine Optimization: Your website's search engine optimization (SEO) determines how easily potential customers can find you. The better your site's optimization, the better you'll rank when users search for financial institutions in their area. Implementing SEO best practices helps you leverage the power of carefully chosen keywords that your potential customers are likely to use as they search for financial institutions. You'll strategically build these keywords into your site's headings, menus and content to help search engines recognize your site as timely and relevant.
Blogging: Search engine optimization is about more than putting the right words in the right headings on your website. It's also about positioning your institution as a helpful source of information. One of the ways search engines determine your site's relevance is the amount of traffic—and you can drive traffic by providing information your customers want and need.
After you've optimized the copy on your website, it's time to expand your SEO efforts into a content strategy. Put yourself in your customers' shoes: What do they want to know? What kinds of questions do they ask you? What are their goals?
Building a content library of helpful blog entries can position your organization as a trusted source of answers. Remember: This isn't about the hard-sell; its about providing valuable content that makes potential customers visit your site and want to know more about the services you provide.
Google Business Listings: Creating a Google Business listing is another way to increase your visibility and generate more potential customers for your financial institution. A Google Business listing allows your physical address to be shown on Google Maps—and you can add a variety of business details with which users can engage. They can leave reviews, ask questions and more.
"Your Google Business listing is a great way to build visibility and credibility within the search engine itself," said Sophie Williams, digital strategist at Epicosity. "Because the information is housed in Google, potential customers may be more likely to trust the information." Learn more here.
Evaluate Your Social Media Presence: Staying on top of social media trends isn't just for the young. It's vital to your business interests. You need to make sure you're creating the right types of content and publishing it on the right platforms.
First, you'll need to create benchmarks. Most social media platforms provide a bevy of analytics that can help you understand how well you're doing in reaching and engaging with your audiences. You should spend some time understanding those numbers and pay attention to the trends over time. This is the only way you can understand whether your future efforts are moving the needle.
"Don't be afraid to get a little outside of your comfort zone on social media," said Cooper Chwialkowski, digital media coordinator at Epicosity. "Remember that you're trying to drive engagement—and that means providing content that entertains as well as informs. Your posts should be provocative and visually engaging."
It's also a good idea to spend some time taking a look at what your competitors are doing on social media. What's working? What's generating engagement? What are some topics you might consider avoiding? Where do you see gaps in their approach? Asking these questions as you browse can inform your strategy.
Item 3: Use messaging and visuals to stand out from the crowd
Finally, now that you have something to say and have created venues in which to say it, ask yourself: How do your organization's messaging and visuals stand apart from your competition?
"This may sound counterintuitive, but effective financial marketing often speaks less about the institution and more about the customer," said Greg Veerman, creative director at Epicosity. "Tapping into your customers' dreams and aspirations is a powerful tool to get personal and make an immediate connection."
Here are a few additional items to consider:
Look at the campaigns your competition is running—and then run the other way with your approach.
Survey people in your region to get a sense of what people remember about you, your brand and your offerings.
Survey current customers/members to get a glimpse into what they think about you, how they interact with your services—and what they wish you knew/offered.
If you're driving in the dark, pump the brakes and turn on the lights. You don't have to guess how you stack up against the competition. The experts at Epicosity can help you get started!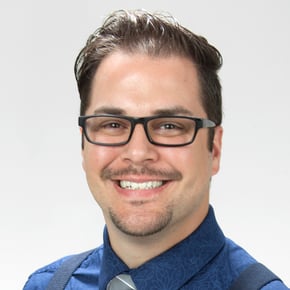 Jay Bachmayer
Jay specializes in Finance marketing strategies. He works hand in hand with bank and credit union marketing teams to set goals, launch campaigns, and analyze results. With years of digital, content, and general marketing experience, Jay dedicates himself to connecting modern marketing strategies to financial institutions.