Video is one of the most popular forms of content on the internet—and it's growing. In fact, according to HubSpot, audiences spend 19 hours a week on average consuming video content as they browse. The past few years of pandemic living have only accelerated this trend. It's likely that your organization has several social channels, but if you haven't developed a video-content strategy, you're missing out on a huge piece of the pie.
If you hold the impression that developing a video strategy is going to require a lot of additional resources, we're here to challenge that notion. Thanks to the immense power of the mobile devices most of us carry with us every day, producing and distributing video content has never been easier or more cost-effective.
Still on the fence? Let's dig a little deeper into the topic. Here are a few things you should consider when developing your video content strategy.
Video Platforms are Taking Over Social Media
It isn't simply that video content across social platforms performs better relative to other types of content—though this is true—social platforms that are dedicated to hosting video content are dominating your audience's mindshare.
For example, TikTok, a platform that allows users to upload and share brief video clips has become an absolute juggernaut on the scene. According to The Washington Post, in 2022, TikTok's website was visited more often than Google.
"Some agencies will tell you that video content is the future," said Cooper Chwialkowski, digital media coordinator at Epicosity. "The truth, though, is that video content is NOW. We encourage all of our clients to develop a strategy."
And if you think it's all about the latest dance-fad videos…you're only kind of right. The growth of platforms like TikTok means you can find thought leaders, influencers, and marketing content from nearly every sector there—and that includes financial institutions.
Video Performs
Developing video content isn't simply about producing clips. It's about producing results. The numbers are in—and they indicate that video content delivers better results and more ROI than other types of content.
Why?
Video content makes it easier to establish an emotional connection with your audiences, which creates a greater level of trust and affinity between audience and institution. In an environment where users are increasingly savvy and skeptical when it comes to advertising, creating an emotional bond with your audience is more important than ever before.
"It's more than a feeling. It's about data. Time and time again, our analytics show the value of video content as a portion of your marketing strategy," said Chwialkowski.
But you don't have to take our word for it. According to HubSpot:
Tweets featuring videos enjoy TEN TIMES more engagement than tweets that don't.
Users watch almost A BILLION minutes of video a day on Pinterest.
Video marketing can improve your search engine optimization (SEO).
It adds up to more leads to nurture and more conversions to fuel your FI.
Video is Mobile
Most of us carry smartphones—and while their small screens are not always the ideal way to consume text-heavy content, they're ideal for video. Developing a video-specific content strategy provides your organization an effective way to remain top of mind wherever your audience is and whatever they're doing.
In fact, according to a recent study from Cisco, video content represents more than 80 percent of ALL internet traffic. We consume it during morning walks, during lunch breaks, before bed to unwind. It's everywhere. And when you've developed your video content strategy, your FI can be with them every step of the way.
"We know from studying the campaigns we produce that mobile video puts you in front of people when other types of content simply cannot reach them," said Chwialkowski.
To get started, you don't need much more than a smartphone and a social media account—but we recommend speaking with an expert to make sure you're getting the most out of your time and effort. You're in luck. Epicosity specializes in guiding financial institutions toward more effective marketing strategies.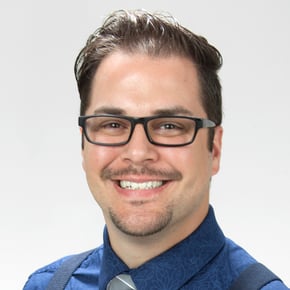 Jay Bachmayer
Jay specializes in Finance marketing strategies. He works hand in hand with bank and credit union marketing teams to set goals, launch campaigns, and analyze results. With years of digital, content, and general marketing experience, Jay dedicates himself to connecting modern marketing strategies to financial institutions.