It's always a win when someone new makes the leap to your bank or financial institution. It hits the same way when you win tickets at an arcade or get multiple "likes" on Facebook. Once you get one, there's always that itch that screams, "I want more."
As important as it is to forge new relationships, the need should never detract from the ones already established. In fact, there's more to gain from nurturing your loyal consumer base than one might think.
Here are three strategies to implement to make the most of your customer base.
Deposit Growth Marketing Campaign
According to FlowTracker Analytics Inc., only 20-percent of new money in deposit portfolios comes from new clients. The other 80-percent comes from clients and members you already have relationships with.
Remember: your customers have needs too – especially when it comes to banking and finances. Like yours, their needs grow and change over time.
Develop a campaign that focuses on the changes and inevitable necessities that come with growth. For example, target accounts with family members that would benefit from a checking account (i.e., a teenager). In a similar vein, customers who grow older might need a new savings account or even an account for retirement.
When developing your campaign, there are several elements you can apply to help you achieve growth:
Search Engine Optimization
Local SEO is key to maximizing online visibility for your bank. This will make it more likely for potential customers to find you through search engines and review sites. Once a prospective customer has found your site, this is the time to present an attractive offer for a new account.
Having this content on your website can be a strong way to promote or push services to existing customers. For example, on your Savings Account page, take the chance to build a Savings Account for Families as a label with this section header and resulting subleaders. Include some written content that explains how a savings account for multiple family members could work and how parents can help manage their kids' accounts.
Content like this helps build page authority on the topic.
Utilizing Multiple Marketing Channels
Today, you can't assume your prospects will make it through the buyer's journey based on one channel alone; develop a multi-channel strategy to reach them. But where to begin? Start with the kind of brand you want to be. In other words: what's your brand archetype?
Is your brand a:
Hero – Someone who is honest, candid and brave (i.e., Nike, Adidas, FedEx.)
Magician – Someone who is charming, informed and moving. (i.e., Disney, Coca-Cola)
Caregiver – Someone who is warm, caring and reassuring. (i.e., UNICEF, WWF, TOMS)
Sage – Someone who is understanding, wide and assured. (i.e., Google, National Geographic, BBC.)
Everyman – Someone who is friendly, humble and authentic. (i.e., IKEA, Volkswagen, Target)
Now, this isn't a list of all the archetypes, but this is a helpful starter guide. Once you know who you are, next, create buyer personas; the people you want to flock to your brand: is this their first-time organizing finances, or are they changing institutions? No one persona is the same, and you need different methods to attract them to your bank.
Here's a general checklist to have every time you seek to utilize multiple marketing channels:
Identify your brand archetype
Develop your brand personas
Decide which social channels would fit each persona
Develop a communications strategy
It never hurts to refer back and remind yourself who you are and what you strive for. This way you can remain consistent in your approaches.
Content Feedback
Include a quick "how to" structure for your PPC campaign. I.E., a campaign for General Brand Terms, a campaign for that Free Checking promo, a campaign for Retirement – then list the target audience next to it and set benchmarks for performance.
Have an Effective Mobile Presence
In 2022, a few things are certain. One is that your customers spend much of their lives online and on their mobile phones. If your bank does not have a digital presence that allows simple transactions to be done anywhere, anytime, you will not grow your number of deposits and, in fact, you may lose existing customers. In order to make banking with your institution an attractive proposition, convenience is of the utmost importance.
If you do not already have a mobile app to offer your clients, create a simple option that allows customers to perform basic functions like check deposit, account overview, and funds transfer from their handheld device. With an estimated 224-million smartphone users in the U.S., many of the high deposit customers your bank needs to attract are among this group. People's lives are busier than ever, so offering time-saving options with a mobile-first mentality will make your bank more attractive and translate into growing your bottom line.
Consistent Email Communication
Keep consistent communication with members or existing customers via email. There are a multitude of email campaigns that can effectively entice new and existing clients. Read our article on email marketing campaigns which gives you the tools to communicate more effectively and cross promote services.
Home Equity Marketing Campaign
This type of campaign is one best done in house. Or should we say "houses"? The point of this being is focusing on customers who have had their home for a while as they can take advantage of their equity.
An effective way to notify customers of your equity loan offerings is through paid search marketing. Most customers use search engines to research a product or service before the decide to buy. So, it's become more essential to get your name at the top of the list. Utilizing PPC (Pay-Per Click) advertising, banks can push past competitors and target specific audiences based on what keywords they use in their searches.
Email Series
Look into your current base of clients and see which ones are homeowners, then you can base your targets on who could benefit from using their equity, home refi or HELOC. Express through an email series the gains they can receive by capitalizing on their built-up equity.
Social Media Paid Marketing
It would be beneficial to consider targeting followers on Facebook with a paid marketing campaign promoting refi's. This will get far more exposure and engagement that posting about rates organically on their social media pages.
Banking Expansion Marketing Campaign
You may have clients that utilize your bank for one service. For example, most audience's car shop based on rates and monthly payments. You will have customers who use no other financial services from you.
This can be done internally and externally. Banker's meeting with clients can promote other financial services. Inserts at the drive through, lobby posters, staff handouts, receipt print outs are always tough points that can lead to a greater share of wallet.
Loyalty Program for Existing Members
Consumers want to feel good for making good choices. Weather it's in-person, online at events, or in one of your branches, take the time to build rewards programs that reward their loyalty with randomized double deposits or a point system. You can reward them for weekly banking activities or being a first-time user on your social app.
For example, some programs will reward their customers by making purchases with their bank card: These rewards can vary from earning credit points, merchandise, to cash or travel prizes.
Zions Bank's 'Pays for A's' is a unique reward program. It's focused on middle and high school students and offers a monetary deposit for each "A" on the students' report card.
Use these tactics as an advantage to promote checking and savings accounts to these audiences with an emphasis on banking convenience and service.
The Tools at Your Disposal
Growing your share of wallet is the matter of seeing needs in your consumers and offering them more than they realized they needed and identifying ways to make their lives easier. This kind of engagement shows your consumers the thought and care you put into them, and, often, will reflect in them wanting to expand their relationship.
Need help figuring out where to start? Contact Epicosity today and we'll help you find the best campaign to put into practice.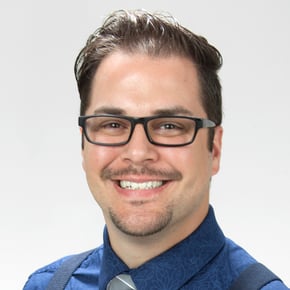 Jay Bachmayer
Jay specializes in Finance marketing strategies. He works hand in hand with bank and credit union marketing teams to set goals, launch campaigns, and analyze results. With years of digital, content, and general marketing experience, Jay dedicates himself to connecting modern marketing strategies to financial institutions.