When it comes to the shifting landscape of social media, it sometimes seems as though we need to be everywhere at once—but the truth is, you only need to be where the action is. That's where we come in with insights designed to help you leverage your limited time and resources effectively.
You probably have a Facebook page for your financial institution. Maybe you have an Instagram account. But in a world where Facebook once was king of social media, TikTok—a social media channel where users share short video clips—is proving itself to be a formidable rival for the crown.
With more than a billion worldwide accounts and growing, TikTok can help you reach a broad swath of potential customers and members—particularly among younger demographics. Before you take the leap into TikTok, though, here are a few things you should consider.
Entertaining Content is King
First off: You're going to be tempted to produce and share short instructional videos about mortgage rates. Resist that urge. That's not to say your videos can't or shouldn't inform, but they should first seek to entertain.
"You're not just competing for attention for eyeballs with other financial institutions," said Cooper Chwialkowski, digital media coordinator at Epicosity. You're also competing with millions of videos of cats doing crazy things, which users have at their fingertips 24/7."
So if you're going to try to educate, also strive to entertain. Look for humor in the challenges your audience faces. Ask interesting questions. Try to see the world as your potential customers see it. Give them a reason to stop scrolling. Otherwise, you're going to get lost in a sea of noise.
Authenticity is Key
TikTok users are attracted to the same attributes in the accounts they follow as your potential members and customers are in their financial institutions. They want you to be authentic. Said another way, they want you to project honesty and credibility. This means they're going to want to see you and your team in the TikTok videos you produce.
"These videos are all about making emotional connections with your audience," said Chwialkowski.
Avoid videos that look like PowerPoint slideshows with voiceover. You should also resist the urge to overproduce your clips. These videos shouldn't look like they were made in a studio with perfect lighting under ideal conditions. Scroll through TikTok for a few minutes and you'll see what we mean. Find (or hire) someone who can project casual good humor as they execute on your strategic communications objectives and turn them loose with a camera phone.
Tie Into Trends
You may be feeling a little panicky at this point in the blog. You may be saying to yourself, "I'm not an entertainment professional. I don't know how to be funny. I'm a numbers person!" Fear not. You don't have to come up with ideas out of thin air. In fact, TikTok is structured in a way that can actually reward you for following trends rather than blazing your own trails. Tying your TikTok marketing efforts into existing trends is one of the best ways you can raise awareness on the platform. On TikTok, trends often feature particular songs, dances, sounds, or hashtags. These trends typically roll in waves and won't stick around long.
"Because trends change so quickly, it's difficult to build an entire strategy around them," said Chwialkowski. "This is an area where you'll need to be agile and look for opportunities on the fly."
The best way to understand what's hot on the platform at any given moment is to scroll for a bit and see what's going on. Then try to emulate it in your own videos—but in a way that feels authentic and faithful to your brand. As the kids say: It's a fine line between hooking into trends and being "cringe."
The Best Way to Use TikTok is Not to Get Others to Use it For You
The younger demographics—the ones you're more likely to find on TikTok, dislike being marketed to. If you're using your TikTok account mostly to talk about yourself, you're probably doing it wrong. The cure? Get other users to talk about you and sing your praises. There are a few ways to go about this. We'll briefly touch upon two of these.
User Generated Content
Does one of your account holders have an interesting story? Maybe one of your employees helped a young family get a loan during a time of need. Perhaps one of your members has an interesting hobby or side-hustle your financial institution made possible. These are the folks you should consider reaching out to. If they have a TikTok account and had a great experience with your organization, they may be willing (even eager) to use their platform to help you tell your story.
Partner with Influencers
Influencers are users that have large followings and often drive trends. You're going to want to scope out TikTok for influencers in the financial space and understand what makes their feeds tick (and Tok). In some instances, it'll make sense to reach out and forge a partnership. Influencers are always looking for content and ways to build their brand. Consider what you might be able to offer them in that regard. The benefits are their credibility and reach: You'll get to leverage both.
There are many more considerations in play as you develop your TikTok channel and strategy, but this should be enough to get you started. The best way to do it is to get out there and do it.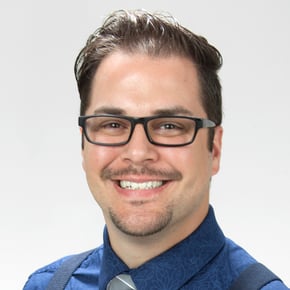 Jay Bachmayer
Jay specializes in Finance marketing strategies. He works hand in hand with bank and credit union marketing teams to set goals, launch campaigns, and analyze results. With years of digital, content, and general marketing experience, Jay dedicates himself to connecting modern marketing strategies to financial institutions.